"Life is too precious to be bored" is not only my motto but also my lifestyle. I always look for new professional challenges and interesting things to do. During my work at the charity organization Sobia e.V., I have a great opportunity to travel around the world and encounter a lot of interesting people and projects. I really enjoy working with social projects and it is always a joy to see the smiles on the faces of the people you helped. Besides my job at the charity organization, I also work as a professional consultant for various companies all over the world.
But of course my life is not all about work; when I'm on holiday, you will probably find me on a hiking trip or see me relax at a cafe reading a good book ;)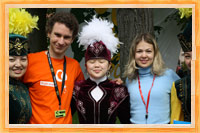 My first encounter with people in need was during my voluntary service in Central Asia, and I have been involved in development politics since 2005. As the CEO for the Charity organization Sobia e.V., I currently work with social projects around the world. In addition to this work, I studied business economics and work as a consultant for various companies. I am currently involved in a social media research project.

It is really easy to see me smile; you only have to invite me for a cup of coffee and tell me some interesting stories. I really like to hear about great new things, meet with old friends and make new ones. I also greatly enjoy being in nature, surrounded only by wild animals and pretty flowers.